You are here
Back to top
The Sextant Handbook (Paperback)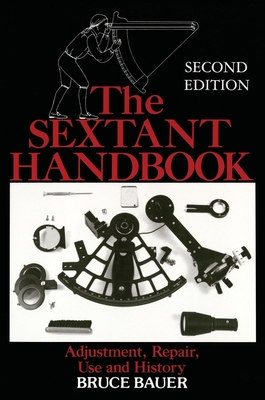 $20.00

Usually Ships in 1-5 Days
Description
---
Loran and GPS notwithstanding, there will always be a place for the sextant aboard any blue-water boat, if for no other reason than the thrill and mystery of finding one's position on earth by gazing at the heavens. Here is the indispensable reference that should accompany the instrument aboard. Cmdr. Bruce Bauer, a professional navigator and master mariner with the U.S. Merchant Marine, has distilled years of hands-on experience into an eminently readable guide to buying, adjusting, using, and repairing sextants.
The Sextant Handbook is dedicated to the premise that electronic navigation devices, while too convenient to disregard, are too vulnerable to rely on exclusively. The book is designed to make beginner and expert alike conversant with this most beautiful and functional of the navigator's tools. Topics include:
Assembly and Disassembly
Vital Adjustments
Avoiding Problems
Rough Weather Sightings
Oiling and Cleaning
Immersion Baths
Emergency Silvering
Finding and Buying Used Sextants
And Much More
You'll also find a list of distributors, manufacturers, and dealers worldwide, a discussion of future trends, and numerous helpful hints, including sighting with eyeglasses and using a Rude starfinder. All in a thoroughly revised edition of a book acclaimed by navigation professionals.
About the Author
---
Cmdr. Bruce A. Bauer, USN (ret.), is a professional navigator and master mariner with the U.S. Merchant Marine. He presently commands a Navy research vessel sailing between the United States and the Caribbean islands and recently commanded the ship that was successful in relocating the historic sunken submarine Monitor off Cape Hatteras. A former destroyer captain, Cmdr. Bauer has taught radar and been a senior instructor for the Master Mates and Pilots School of Advanced Studies and also served as the commander of the Naval Research Lab at Chesapeake Beach, Maryland. In addition to The Sextant Handbook, Cmdr. Bauer has written articles on the subject of marine sextants for Cruising World and SAIL magazines. He lives with his artist wife, Nancy, on the shores of the Chesapeake in Deale, Maryland.