You are here
Back to top
Beyond Broadway: The Pleasure and Promise of Musical Theatre Across America (Paperback)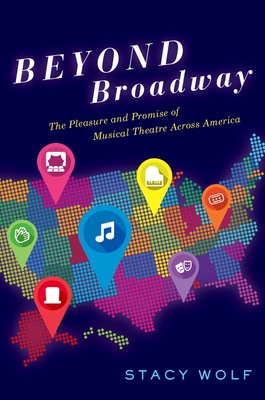 $35.95

Usually Ships in 1-5 Days
Description
---
The idea of American musical theatre conjures up images of bright lights and big city, but its lifeblood is found in local and amateur productions at schools, community theatres, summer camps, and more. In Beyond Broadway, author Stacy Wolf considers the widespread presence and persistence of musical theatre in U.S. culture, and examines it as a live, pleasurable, participatory experience of creating, watching, and listening. Why does local musical theatre flourish in America? Why do so many Americans passionately engage in a century-old artistic practice that requires intense, person-to-person collaboration? Why do audiences flock to see musicals in their hometowns? How do corporations like Disney and Music Theatre International enable musical theatre's energetic movement through American culture? Touring from Maine to California, Wolf visits elementary schools, a middle school performance festival, afterschool programs, high schools, summer camps, state park outdoor theatres,
community theatres, and dinner theatres, and conducts over 200 interviews with practitioners and spectators, licensors and Disney creatives. In Beyond Broadway, Wolf tells the story of musical theatre's abundance and longevity in the U.S. as a thriving, joyful activity that touches millions of lives.
About the Author
---
Stacy Wolf is Professor in the Program in Theater in the Lewis Center for the Arts at Princeton University. She is also the Director of the Program in Music Theater and Director of the Princeton Arts Fellows program. She is the author of A Problem Like Maria: Gender and Sexuality in the American Musical (2002), Changed for Good: A Feminist History of the Broadway Musical (2011), and co-editor of The Oxford Handbook of the American Musical (2011).