You are here
Back to top
Crossfire: The Plot That Killed Kennedy (Paperback)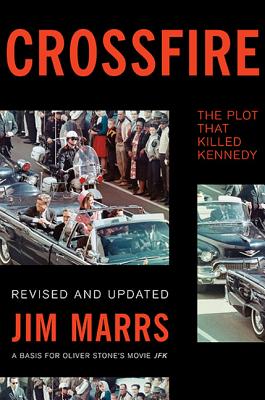 List Price: $24.99
Our Price: $22.49
(Save: $2.50 10%)
Usually Ships in 1-5 Days
Description
---
The explosive search for the truth about who killed JFK, "the final word until 2039-when government files on the case can be unlocked." (Kirkus)

Will we ever know the truth about the Kennedy assassination? In Crossfire, Jim Marrs demonstrates that the facts are all there-they just need to be pieced together. Offering a wealth of evidence, including rare photos, documents, and interviews, Marrs, a veteran Texas journalist, reveals the telltale signs of the conspiracy: early government manipulation of the famous Zapruder film, falsification of evidence, the intimidation of witnesses after the assassination, the theft of Oswald's identity during the countdown to the tragedy, and much more.

Meticulously researched and brimming with new information, Crossfire is sure to remain the most comprehensive account of this epochal American crime.
About the Author
---
Jim Marrs (1943-2017) was an award-winning journalist and independent researcher and writer. For over thirty years, he taught a course on the Kennedy assassination at the University of Texas at Arlington.
Praise For…
---
"Marrs attempts to bring together the gist of all [the assassination] material into one thorough source book.... He neatly capsulizes the plethora of theories offered by critics of the lone-gunman theory.... Crossfire is compelling, albeit macabre, reading."—Washington Post

"Marrs re-examines issues never satisfactorily resolved by the official inquiries.... Crossfire raises profound and deeply troubling questions."—Cleveland Plain Dealer

"The big daddy of the conspiracy books on the JFK assassination, and one that can't be taken lightly. A sheer tour de force that may be the final word until 2039 -- when government files on the case can be unlocked."—Kirkus Reviews

"The huge mass of evidence Marrs presents to support his theory is irresistibly intriguing."—Booklist

"Dallas journalist Marrs brings together, under one cover, diverse theories and facts.... He points to the inconsistencies and unexplained elements embodied in the official version as to what transpired before, during, and after the President's death."—Library Journal