You are here
Back to top
If the Table Could Talk- A Taste of the Holidays (Hardcover)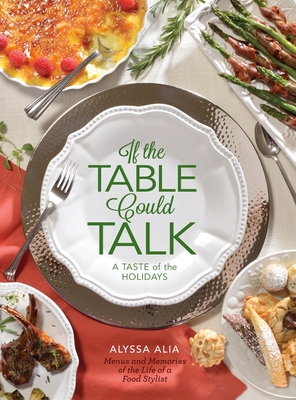 $34.99

Usually Ships in 1-5 Days
Description
---
Join us for a culinary cookbook Holiday extravaganza
If your table could talk, what would it say? Alyssa Alia is one of the top professional food stylists in the U.S. and a working mother of two who is proud to present her second solo cookbook, "IF THE TABLE COULD TALK - A Taste of the Holidays " from her Menus and Memories of the Life of a Food Stylist. It is the sequel to her first solo cookbook "If the Table Could Talk - A Taste of Celebrations." Captured by the menus she's created and saved from decades of entertaining the Holidays in her home, you'll find within these pages a treasure trove of well-loved holiday recipes - delectable, fun, easy-to-prepare and filled with joy Over 200 recipes, developed and prepared lovingly by Alyssa over many years, are presented here with time-saving tips, make ahead tricks, decorating ideas and hints for how to make every Holiday you host, big or small, a success.
She presents this cookbook as an autobiography of her culinary life.
Alyssa entices you with gorgeous photographs for every recipe - to anticipate every bite. Her life has been centered around beautifully prepared and delicious food as a professional food stylist and certified culinary chef.
Her specialty is entertaining and she wants to show people how to do that without fuss as she's done over the last 30 years through recipes that culminate into menus for a variety of holidays.
"Each recipe is a living short story from Alyssa's life...that's what this book is all about, love Love of food and the people to whom we express that love through cooking, sharing meals and creating new memories," Al Owens, photographer of the cookbook, said.
"When one visits Alyssa as her guest, by merely entering her home, you feel like you are in a hallowed temple dedicated to love and hospitality, all built around ingenious foods and her will to teach the countless joys of food. Her book projects this passion she has to spread her knowledge and her love, inducing all in her aegis to the good life based on her extraordinary feelings of hospitality." Arthur E. Imperatore, Sr, a close family friend, said.
Alyssa is a graduate of Cornell University, has a chef certification from the New York Restaurant School, and was an attendee of Le Cordon Bleu, Paris. Through her lifelong culinary and artful career, she shares a taste of celebrations that will encourage you to create new, cherished memories around your table.
Alyssa invites you to take a seat at her table and enjoy this sampling of recipes from her holiday menus, that hold a special
place in her heart. They are easy and fun, and most are even make-ahead. Many were
inspired through family and holiday traditions, and others from friends, professional and
personal. She also included shopping and entertaining tips with time saving ideas and
helpful tricks. Since her professional life is styling food in the most beautiful way it can
be for the camera, She also included easy garnish and serving suggestions to make
your parties showstoppers with minimal fuss and ease.
"I believe the holidays are the best ways to bring loved ones around your table, and my goal is to give you recipes that will become your holiday favorites that will last for a lifetime and for generations to come. I invite you to take a seat at my table to enjoy this sampling of my recipes from menus, that hold a special place in my heart."
Keep your table talking
En- JOY and cook just for the love of it
Alyssa XO