You are here
Back to top
Bad City: Peril and Power in the City of Angels (Hardcover)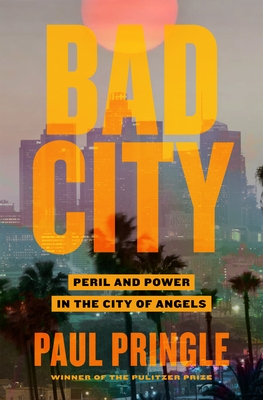 List Price: $29.99
Our Price: $26.99
(Save: $3.00 10%)
Usually Ships in 1-5 Days
Description
---
"Pringle's fast-paced book is a master class in investigative journalism... when institutions collude to protect one another, reporting may be our last best hope for accountability."
—The New York Times

For fans of Spotlight and Catch and Kill comes a nonfiction thriller about corruption and betrayal radiating across Los Angeles from one of the region's most powerful institutions, a riveting tale from a Pulitzer-prize winning journalist who investigated the shocking events and helped bring justice in the face of formidable odds.

On a cool, overcast afternoon in April 2016, a salacious tip arrived at the L.A. Times that reporter Paul Pringle thought should have taken, at most, a few weeks to check out: a drug overdose at a fancy hotel involving one of the University of Southern California's shiniest stars—Dr. Carmen Puliafito, the head of the prestigious medical school. Pringle, who'd long done battle with USC and its almost impenetrable culture of silence, knew reporting the story wouldn't be a walk in the park. USC is one of the biggest employers in L.A., and it casts a long shadow.

But what he couldn't have foreseen was that this tip would lead to the unveiling of not one major scandal at USC but two, wrapped in a web of crimes and cover-ups. The rot rooted out by Pringle and his colleagues at The Times would creep closer to home than they could have imagined—spilling into their own newsroom.

Packed with details never before disclosed, Pringle goes behind the scenes to reveal how he and his fellow reporters triumphed over the city's debased institutions, in a narrative that reads like L.A. noir. This is L.A. at its darkest and investigative journalism at its brightest.
About the Author
---
Paul Pringle is a Los Angeles Times reporter who specializes in investigating corruption. In 2019, he and two colleagues won the Pulitzer Prize in Investigative Reporting for their work uncovering the widespread sexual abuse by Dr. George Tyndall at the University of Southern California, an inquiry that grew out of their reporting the year before on Dr. Carmen Puliafito, dean of USC's medical school. Pringle was a Pulitzer Prize finalist in 2009 and a member of reporting teams that won Pulitzer Prizes in 2004 and 2011. Pringle won the George Polk Award in 2008, the same year the Society of Professional Journalists of Greater Los Angeles honored him as a distinguished journalist. Along with several colleagues, he shared in Harvard University's 2011 Worth Bingham Prize for Investigative Reporting. Pringle and a Times colleague won the California Newspaper Publishers Association's Freedom of Information Award in 2014 and the University of Florida's Joseph L. Brechner Freedom of Information Award in 2015. Pringle lives in Glendale, California.
Praise For…
---
*A New York Times Editors' Choice and "Best Book of July"*
*A Newsweek Best Book of 2022*

"Just as there is reliably a song of the summer or a must-see blockbuster, the journalism industry now has a top candidate for the media controversy of the season ... Pringle's fast-paced book is a master class in investigative journalism... When institutions collude to protect one another, reporting may be our last best hope for accountability."
—The New York Times

"Paul Pringle's Bad City is an earth-shattering tale of appalling institutional corruption—and the inspiring reporters who overcame shocking obstacles to bring the truth to light."
—Robert Kolker, #1 New York Times bestselling author of Hidden Valley Road and Lost Girls

"Pringle...reveals how power works in Los Angeles, a city where a new brand of film-noir corruption thrives in our tech-economy landscape. It's a city where the privileged do everything they can to protect their friends and allies, and where small groups of insurgents work tirelessly to drag their behavior out into the light of day.... A powerful and truly original addition to the genre of investigative-journalism drama."
—The Los Angeles Times

"His book details the breathtaking twists involved in reporting out these many stories, but also lays bare the cover-ups and scandals present at his own newspaper...not unlike the NBC News debacle that Ronan Farrow revealed in his book Catch and Kill."
—The Hollywood Reporter

"Bad City, a startling tale of people looking the other way and behaving ever so badly, never lets up. It is one whopper of a true-crime story, written with an immediacy bound to win readers."
—The New York Journal of Books

"A Los Angeles noir caper come to life, Bad City grabs you from the very first sentence and doesn't let go. A remarkable reporting achievement."
—Chris Hayes, host of All In with Chris Hayes and New York Times bestselling author of A Colony in a Nation

"A crisp tale of institutional rot, dogged journalism, and heroic whistleblowing. Readers will be on the edge of their seats."
—Publishers Weekly

"The tip that initially made its way to The Los Angeles Times newsroom was as salacious as it gets… [Bad City] revisits the paper's relentless reporting that followed, which uncovered an explosive scandal involving sex abuse and powerful men preying on the disadvantaged. If the book were just about that, it would already be compelling enough for news junkies who appreciate how the sausage gets made. Pringle's book, though, adds newsroom acrimony as a layer on top of that story"
—Forbes

"The salacious tale of a major university mired in scandal…[and] the newsroom drama is as juicy as the dramas at the university… A brisk chronicle of sex, lies, and betrayal."
—Kirkus Reviews

"This tale of flagrant menace and endemic corruption is the subject of Pringle's dazzling, irresistible new book, Bad City. In it, he has produced that rare and treasured gift for the nonfiction reader: a penetrating investigation that is also a genuine page-turner."
—Air Mail