You are here
Back to top
How Much Does a Cloud Weigh?: Questions and Answers That Will Blow Your Mind (Paperback)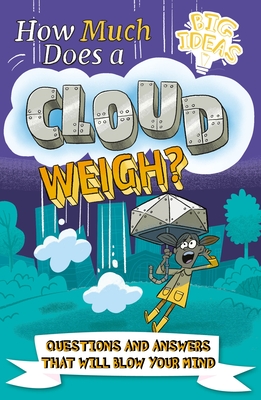 List Price: $6.99
Our Price: $6.29
(Save: $0.70 10%)
Usually Ships in 1-5 Days
Description
---
What is the longest bone in your body? Are turkeys from Turkey? When was toilet paper invented?

Find out the answers to these questions and much, much more in this fascinating fact book for kids. With an engaging Q&A format and hilarious cartoon illustrations, kids can explore some of the strangest, grossest, and most fascinating parts of our world in an accessible and engaging way.
This book will inspire curiosity, spark conversation and improve general knowledge. Perfect for children aged 7+.
ABOUT THE SERIES:
Big Ideas is a dynamic, educational "fun fact" series for children. Illustrated throughout with humorous cartoons. Packed with surprising facts, stats, and records that kids will just love to share, it revels in all things weird, unexpected, mind-blowing, funny, and gross
About the Author
---
William Potter is a prolific author of children's non-fiction. He has also written and edited a wide range of well-known comics and magazines, such as Teenage Mutant Ninja Turtles, Sonic the Comic, Marvel Fact Files, Marvel Chess Specials and DC Chess Collection. He lives in Haslemere, UK. Helen Otway is a talented children's author who has worked across fiction and non-fiction for a wide-ranging portfolio of clients including Disney, Dreamworks, and Warner Bros. Luke Seguin-Magee is an artist of children's books and comics. In the course of his career he has also designed, made graphics, illustrations and animations for computer games, websites and apps for a wide range of clients in Denmark, Canada and USA. He hails from Montreal, Canada, and now resides in Copenhagen and Stockholm. He studied fine art in Canada and multimedia design in Denmark.