You are here
Back to top
Bring Up the Bodies: A Novel (Wolf Hall Trilogy #2) (CD-Audio)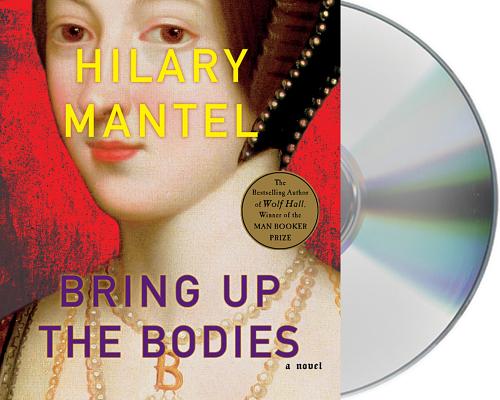 $57.99
Email or call for price.
Description
---
The sequel to Hilary Mantel's 2009 Man Booker Prize winner and New York Times bestseller, Wolf Hall delves into the heart of Tudor history with the downfall of Anne Boleyn

Though he battled for seven years to marry her, Henry is disenchanted with Anne Boleyn. She has failed to give him a son and her sharp intelligence and audacious will alienate his old friends and the noble families of England. When the discarded Katherine dies in exile from the court, Anne stands starkly exposed, the focus of gossip and malice.

At a word from Henry, Thomas Cromwell is ready to bring her down. Over three terrifying weeks, Anne is ensnared in a web of conspiracy, while the demure Jane Seymour stands waiting her turn for the poisoned wedding ring. But Anne and her powerful family will not yield without a ferocious struggle. Hilary Mantel's Bring Up the Bodies follows the dramatic trial of the queen and her suitors for adultery and treason. To defeat the Boleyns, Cromwell must ally with his natural enemies, the papist aristocracy. What price will he pay for Anne's head?

Bring Up the Bodies is the winner of the 2012 Man Booker Prize
Bring Up the Bodies is one of Publishers Weekly's Top 10 Best Books of 2012 and one of The Washington Post's 10 Best Books of 2012
About the Author
---
Simon Vance is the critically acclaimed narrator of approximately 400 audiobooks, winner of 27 AudioFile Earphones Awards, and a 12-time Audie Award-winner. He won an Audie in 2006 in the category of Science Fiction and was named the 2011 Best Voice in Biography and History and in 2010 Best Voice in Fiction by AudioFile magazine. 

 Vance has been a narrator for the past 25 years, and also worked for many years as a BBC Radio presenter and newsreader in London.  Some of his best-selling and most praised audiobook performances include Stieg Larsson's The Girl with the Dragon Tattoo, Hilary Mantel's Bring Up the Bodies (an Audie award-winner), Ian Fleming's Casino Royale, Oscar Wilde's The Picture of Dorian Gray, Patrick O'Brian's Master and Commander series (all 21 titles), the new productions of Frank Herbert's original Dune series, and Rob Gifford's China Road (an AudioFile 2007 Book of the Year). Vance lives near San Francisco with his wife and two sons.
Hilary Mantel
twice won the Booker Prize, for her best-selling novel
Wolf Hall
and its sequel,
Bring Up the Bodies
. The final novel of the Wolf Hall trilogy,
The Mirror & the Light
, debuted at #1 on the
New York Times
bestseller list and won critical acclaim around the globe. Mantel authored over a dozen books, including
A Place of Greater Safety
,
Beyond Black,
and the memoir
Giving Up the Ghost
.
Praise For…
---
"This second volume in Hilary Mantel's planned trilogy about Thomas Cromwell, right-hand man to Henry VIII of England, is a perfect marriage of the written and spoken word…Simon Vance's silken tones and expert pacing keep us engaged throughout…Vance enhances the story with instructive vocal portraits of key players and a listenable tempo that keeps us clear and entranced until the end." —AudioFile Magazine, winner of an AudioFile Earphones Award

"Can one improve Hilary Mantel's tale of Tudor intrigue, Bring Up the Bodies, which has racked up both sales and awards? Well, yes, if you add Simon Vance's acclaimed voice. In an Audie-nominated performance, Vance doesn't simply narrate the Man Booker winner – he seems to inhabit the characters." —USA Today, four out of four stars

"If you listened to Simon Slater's riveting reading of the Booker Prize-wining 'Wolf Hall,' the 2009 opener in Hilary Mantel's trilogy, the news that the sequel has a different narrator won't be good. Fear not. Simon Vance's narration is every bit as versatile and nuanced as Slater's, his intonation for each character is as uncannily distinctive – a critical requirement with so many characters. Even better, Vance's voice portrayal of the historically maligned Thomas Cromwell, chief adviser to King Henry VII, is almost indistinguishable from Slater's in 'Wolf Hall'" —Newark Star-Ledger

"We all know the story, but hearing it described through Cromwell's eloquent words and inner thoughts on power and ambition, his own included, make it new again, and riveting. Mantel's language is extraordinary – it's as though she's channeled Cromwell from beyond and burrowed into his mind – and Simon Vance's impeccable reading is a perfect match. A wonderful way to celebrate audio month." —BookPage

"Narrator Simon Vance's skillful presentation enhances Mantel's outstanding description and dialogue. His gorgeous sound, tone and accent add to the beauty and horror of the compelling story." —Library Journal, starred review

"Narrator Simon Vance shines in his portrayal of the characters, creating a range of distinct voices – including the increasingly tense Anne Boleyn and the earnest Georgey, Cromwell's mild-mannered young son who is eager to prove himself. Best of all, however, are the measured tones Vance employs for the conniving Cromwell. The narrator captures the soul of this complex character, a man of innate pragmatism and confidence who is also quietly haunted by regrets. Vance also nails the bone-dry wit of the characters. In all, this is an exemplary audiobook." —Publishers Weekly, starred review

"Vance takes commence of the complex story, reading Mantel's complicated prose with assurance…Tensions leading up to Anne Bolyn's execution run high, and Vance relays the emotions with precision and grace, showing that he is attuned to the complicated plot." —Booklist

"I downloaded Hilary Mantel's majestic 'Bring Up the Bodies' and was pleasantly surprised to hear Vance's gentle and authoritative voice once again. It was like running into an old friend and knowing that we were about to have a long and satisfying visit." —John Schwartz, The New York Times Book Review