You are here
Back to top
Heart and Brain: Gut Instincts: An Awkward Yeti Collection (Paperback)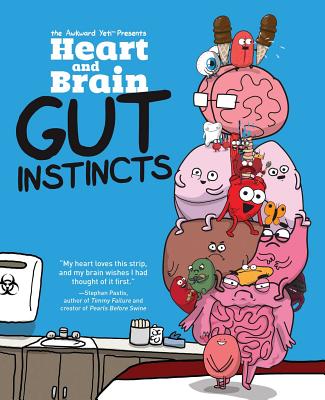 List Price: $14.99
Our Price: $13.49
(Save: $1.50 10%)
Description
---
Fans of Poorly Drawn Lines, Liz Climo, Randall Munroe, and The Oatmeal will love this riotous collection marking the return of optimistic Heart and analytical Brain with over 60 brand-new, never-before-seen comics.

Vigorously demanded and highly anticipated, Heart and Brain: Gut Instincts is the follow-up to the tremendously popular New York Times bestseller, Heart and Brain: An Awkward Yeti Collection.

The Awkward Yeti's Heart and Brain comics perfectly illustrate the ongoing, internal struggle betwixt head and heart.

Heart and Brain: Gut Instincts features the same lovable characters as the first book and introduces a host of other vital organs like insatiable Tongue, irritable Bowels, and abused Stomach.
About the Author
---
The Awkward Yeti was created by cartoonist Nick Seluk in late 2012, followed by the Heart and Brain spinoff in 2014.

Nick pursued his lifelong dream of being a professional cartoonist after serving nine years in the corporate world as a graphic designer. In his childhood, he drew inspiration from classics like Calvin and Hobbes, The Far Side, Garfield, and The Simpsons.

Nick lives with his wife, three young kids, and a lovable, ornery old dog in the suburbs of Detroit.

Heart and Brain, and a growing cast of organs can be found at theAwkwardYeti.com and on most social media sites.
Praise For…
---
"Who would've guessed that a talking heart and a brain could give you lessons, laughs, and love instead of just nightmares and PTSD." (Kris Wilson, Cyanide and Happiness)

"My heart loves this strip, and my brain wishes I had thought of it first." (Stephan Pastis, author of Timmy Failure and creator of Pearls Before Swine)

"These viral comics are winning the internet." (Sarah Kolkka, Elephant Journal)

"This comic about our heart and brain is as inspiring as it is funny." (Ally Hirschlag, Upworthy)