You are here
Back to top
Survival: A Prepper's Guide to Life after the Crash (Paperback)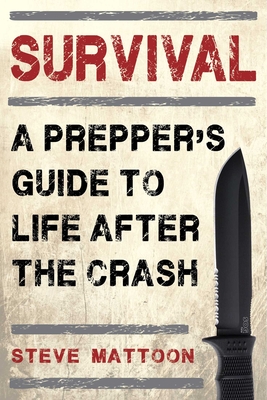 List Price: $14.99
Our Price: $13.49
(Save: $1.50 10%)
Description
---
Defend what's yours when catastrophe strikes with expert tips that go beyond food and water storage.

Should a national disaster occur, how will you respond? What will occur when critical societal services cease to function? As a prepper, you will likely be ready to hole up and live off of your stored supplies, at least for a while. But what do you do during that time? What are your next steps? And how do you defend yourself against others who have not prepared for such a disaster?

After the Crash covers all the situations that you may face when the lack of governmental infrastructure leads to social upheaval and chaos. Since most of the population is unprepared for a disaster of any kind, this book gives both the trained and untrained prepper valuable information needed to have any chance of survival in a world where organized government assistance may not be available. Importantly, he details the crucial steps you need to take in addition to doing everything other survival manuals advise. These critical tips go beyond stockpiling food, water, and weapons.

Offering battle-proven advice, Steve Mattoon explores what it takes to survive alone versus in groups, each approach presenting its own advantages and challenges. Discover how best to defend yourself, what to use, and how to most effectively use the tools you have at your disposal. Whether you find yourself in a rural area or an urban jungle, Steve Mattoon's After the Crash will prove an essential addition to any prepper's bug-out bag.
About the Author
---
Steve Mattoon spent more than two decades in the United States Army, including stints as an elite Army Ranger. His experiences in the Army and the Rangers led to work as an instructor for numerous law enforcement offices and military branches, even providing specialized training to the Saudi Arabian National Guard. He is an expert in combat and survival tactics as well as explosive entry methods, and he continues to educate military and police forces today. The author of eight other books on explosives and special weapons tactics, including Preparation for Civil Disturbances and A Warrior's Trail: Strike Always from Shadows, Mattoon lives in Bellevue, Washington.