You are here
Back to top
How to Disappear and Live Off the Grid: A CIA Insider's Guide (Paperback)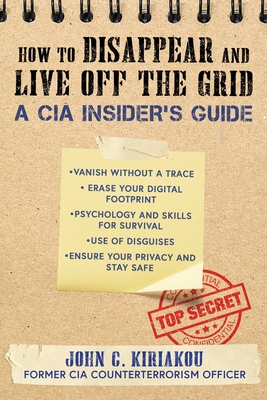 List Price: $16.99
Our Price: $15.29
(Save: $1.70 10%)
Usually Ships in 1-5 Days
Description
---
With an experienced CIA officer as your teacher, you'll gain the knowledge and necessary tools to protect yourself and the ones you love.

No matter where we go, we leave tracks and clues of our existence without even knowing. Our electronic footprint becomes our invisible trail. In this day in age where the world seems to be at our fingertips and social media plays a huge role in our daily lives, it's hard not to leave part of our digital selves for others to find.

Whether you're fascinated by the idea of disappearing, want to erase your digital footprint, or simply concerned about your safety and privacy, knowing how to become invisible is a survival skill that will come in handy.

Through the easy-to-follow instructions, tips, tricks, and professional anecdotes in How to Disappear and Live off the Grid: A CIA Insider's Guide, you'll learn to vanish without a trace from John Kiriakou, a former CIA counterterrorism officer and senior investigator for the Senate Foreign Relations Committee responsible for the capture of Abu Zubaydah.
 
About the Author
---
John Kiriakou is a former CIA operative and senior investigator for the Senate Foreign Relations Committee. A target of the Obama administration's war on whistleblowers, he remains the only US official to serve time behind bars after revelations of CIA "enhanced interrogation" practices, despite openly opposing the torture program. He maintains that his case was about exposing torture, not leaking information, adding, he "would do it all over again." He currently resides in Arlington, Virginia, with his family.