You are here
Back to top
The Official Ninja Air Fryer Cookbook for Beginners: 75+ Recipes for Faster, Healthier, & Crispier Fried Favorites (Paperback)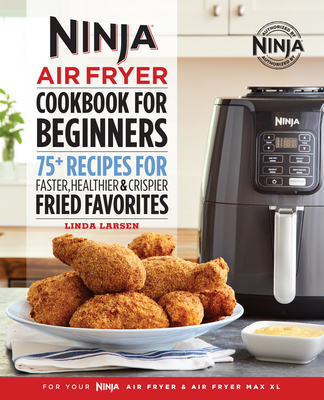 List Price: $19.99
Our Price: $17.99
(Save: $2.00 10%)
Usually Ships in 1-5 Days
Description
---
Make mealtime magic with the Ninja Max XL and this official companion cookbook
Ninja has perfected air frying with the new Max XL, making it simple for beginners to prepare delectable air-fried foods. This officially licensed air fryer cookbook shows you everything you need to get the most out of your Ninja. You'll also discover easy, irresistible recipes for entrees, snacks, and beyond.
What sets this air fryer recipes cookbook apart:
Ninja stamp of approval—This official companion to the Ninja Max XL helps make air frying even easier with information on the new features, instructions for how to use each function, and a handy FAQ section with conversion charts for other Ninja devices.
Meal improv lessons—Learn the secrets to air frying and make 7 classic dishes without a recipe and only a few ingredients on hand.
Beginner-friendly meal plan—Discover a complete 1-week meal plan and shopping lists that make getting started with the Ninja Max XL simple.
Master your Max XL and make mouthwatering meals in a flash with this must-have air fryer cookbook.
About the Author
---
Linda Larsen is a recipe developer, a food journalist, and the About.com Guide to Busy Cooks. She has written articles for "Woman's Day", "Woman's World", "Quick and Simple", and "First" magazines and was a member of the Pillsbury Bake-Off staff. She is the author of more than 25 cookbooks, including "The Everything Tex-Mex Cookbook", "The Starter Cook", and "The Everything Almost Homemade Cookbook".
Praise For…
---
"The Ninja Air Fryer is used more in my kitchen than any other appliance because it's convenient, fast, and yields restaurant quality results. And the Ninja Air Fryer Cookbook for Beginners is the ultimate guide to start unlocking the potential of this machine. Linda's recipes are thoughtful, simple, and still spectacular for when time is of the essence—which it always is!"—Nikki Dinki, chef, TV host, and author of Meat On The Side

"I had looked at other air fryer cookbooks, but many were filled with recipes that didn't seem like the things a typical family of four would eat on a regular basis. Not only does this cookbook contain recipes for family favorites, like barbecued ribs, it also contains recipes for things my family enjoys, but I hadn't thought about being able to prepare in an air fryer, such as taco pizza and General Tso's chicken."—R. Hicks, Amazon reviewer

"This is a super reference; beyond just fryers, beyond just recipes, filled with photos, and filled with knowledge, it reads more like a storybook than a cookbook. . . . I'm impressed."—Mike, Amazon reviewer

"I have spent my life perusing cookbooks. This one for use with an air fryer is the most thorough I have ever seen. Not only are the over seventy recipes all practical and delicious, but there is a comprehensive section at the back that lists dozens of foods and how to cook them in the appliance, including temperature and time."—Mary Ann, Amazon reviewer