You are here
Back to top
Fiction-Writing Modes: Eleven essential tools for bringing your story to life (Paperback)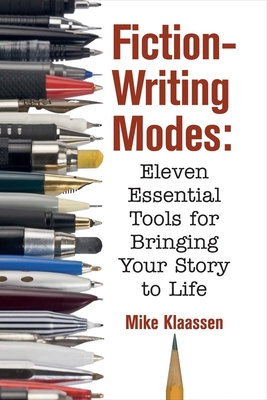 $19.99
Email or call for price.
Description
---
Are you thinking about writing fiction? Writing a novel? Trying to improve a manuscript? Then you need to know all about fiction-writing modes. Eleven fiction-writing modes comprise all written fiction. If you don't know what they are and how each works, how can your story reach its potential? Writing fiction isn't easy, but trying to write a novel without a solid understanding of fiction-writing modes is an exercise in frustration. You can learn about fiction-writing modes in three ways: (1) just start writing and hope you learn over time, (2) read lots of books and attend a bunch of seminars, or (3) study a book devoted entirely to the subject. Mike Klaassen has already read the books and attended the seminars. Combining his copious notes with his own writing experience, he's identified and defined eleven fiction-writing modes that comprise all written fiction. Save yourself a ton of time, money, and frustration with one comprehensive, concise book. Inside "Fiction-Writing Modes," you'll discover: all eleven modes, a definition of each mode, the nuances of using each mode, practical examples of how to use each mode, which modes are the most effective in fiction-writing today, how combining modes can magnify your writing power, and much, much more. Why spend countless hours doing your own research? "Fiction-Writing Modes: Eleven Essential Tools for Bringing Your Story to Life" is a treasure of straightforward, practical information that you can use immediately. Unlock your full potential with "Fiction-Writing Modes"
today!
About the Author
---
Mike Klaassen writes thought-provoking, action-filled stories about people facing daunting challenges. Each of his three novels, The Brute, Cracks, and Backlash: A War of 1812 Novel, has been awarded a B.R.A.G. Medallion. Ongoing research encouraged Mike to write books about the craft of writing fiction. The use of folktales as examples in his nonfiction books led him to begin Klaassen's Classic Folktales, a collection of ancient stories retold as novellas.