You are here
Back to top
365 Days of Art in Nature: Find Inspiration Every Day in the Natural World (Paperback)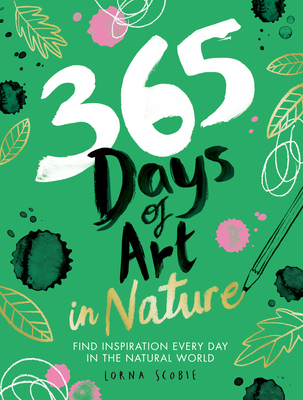 List Price: $20.99
Our Price: $18.89
(Save: $2.10 10%)
Usually Ships in 1-5 Days
Description
---
In 365 Days of Art in Nature, Lorna Scobie, invites the reader to take a closer look at the natural world – whether that's outside on location, or inside their own home – reminding us all that regardless of whether we live in the city or the countryside, wildlife is just on our doorstep.

Observe the slow, constant pace of the nature that surrounds you every day, and use it to inspire you in your art and creativity. Activities may include visiting a particular tree four times in the year and drawing it. How has it changed? Study the colors you find in autumn leaves. Explore drawing them in different materials.

Featuring nature-inspired quotes, breakaway activities to get you outdoors and plenty of supportive prompts and tips, this book will spark your imagination and help you to open your eyes and appreciate the natural beauty in our world.
About the Author
---
Lorna Scobie grew up in the depths of the English countryside, climbing trees and taking her rabbit for walks in the fields. She is an illustrator and designer, now based in south London. Growing up surrounded by nature has heavily influenced her illustrations and her work often revolves around the natural world and animal kingdom.

Lorna draws every day, and always has a sketchbook close to hand when she's out and about, just in case. She illustrates her work by hand rather than digitally, as she enjoys the spontaneity and also the 'happy mistakes' that can happen along the way. Her favorite places to draw are museums and botanical gardens.

This is the fourth book in Lorna's best-selling 365 Days series, following on from 365 Days of Art, 365 Days of Drawing and 365 Days of Creativity.