You are here
Back to top
The Try Not to Laugh Challenge - 6 Year Old Edition: A Hilarious and Interactive Joke Book Toy Game for Kids - Silly One-Liners, Knock Knock Jokes, an (Paperback)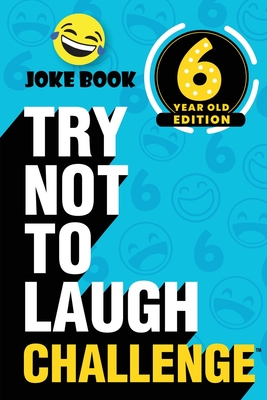 $7.99
Email or call for price.
Description
---
PERFECT GIFT FOR YOUR KIDS THIS CHRISTMAS SEASON
Hours of hilarious jokes that are sure to bring laughter to all that play and witness the greatness that is... The Try Not To Laugh Challenge Series
Why are Dalmatians bad at hide and seek?
They're easy to spot
Welcome to The Try Not to Laugh Challenge Joke Book - 6 Year Old Edition If you want to encourage your kid to improve their confidence, sense of humor, and have fun while doing it... this is the book for YOU, well them This children's game is made so that you're not playing alone, but instead playing with a partner This allows for a friendly showdown, by taking turns reading jokes and tallying up scores to determine who will be crowned the LAUGH MASTER. It's a game that you can get the whole family to play The Try Not to Laugh Challenge books for kids are great for both boys and girls.
Common Side Effects of our joke books include:
Accidental giggles & endless laughs.
Stronger comedic skills.
Happy parents, due to the clean & family-friendly humor.
Unforgettable memories of quality time with those you love
Don't settle for just any boy and girl toy, instead choose this funny best seller Whether you're searching for Christmas gift ideas, presents, stocking stuffers, games, or even toys for kids ages 6 and up, this joke book is sure to be a hit
Check out our other best selling joke books: The Try Not to Laugh Challenge has books for age 6, 7, 8, 9, 10, 11, and 12 year old children