You are here
Back to top
The Crowded Table: The Brave and Beautiful Choice to Mother Many (Hardcover)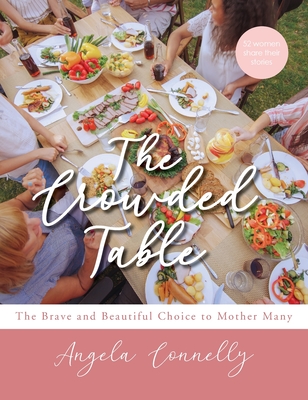 $29.99

Usually Ships in 1-5 Days
Description
---
Mothering many is beyond the norm.In fact, some people actually believe having a large family is a questionable choice.
But that is not what God thinks.
Having a large family is a bold and beautiful choice that opens our hearts, fills our homes with grace and love, and furthers God's heart on the earth, here, today.
The data do not lie-we are in a crisis of epic proportions as the birth rate declines to levels not seen in almost a century. Modern society simply isn't having enough babies That is why the choice to mother many is so crucial.
Moms, you are a gift. You are chosen. You are the hostesses of big, beautiful, crowded tables brimming with laughter and chaos. These tables are epicenters of belonging, sacrifice, forgiveness, and love. They are glimpses of heaven on earth.
In The Crowded Table, author Angela Connelly shares the story of 52 women from across the globe-from Nigeria to England to Washington D.C., from Guatemala to Angela's own backyard of Tacoma, Washington-who have made the brave choice to mother many. You'll read about finding joy in the chaos, mothering beyond biology, the science and data behind declining birth rates, and experiencing God's peace and presence even when mothering feels like the hardest thing you've ever done.
This is a desperately-needed new perspective on the cultural norms surrounding women, children, and faith.
As you rock the cradle, make the beds, wash the feet, feed the multitudes, do the dishes, wipe the tears, and set the table, find peace in knowing that the work you're doing is hard, but it is holy. And, you are not alone. Read how other mothers have filled their tables to overflowing and found God in the midst. This is "abundance" epitomized