You are here
Back to top
Empty Those Pockets (Hardcover)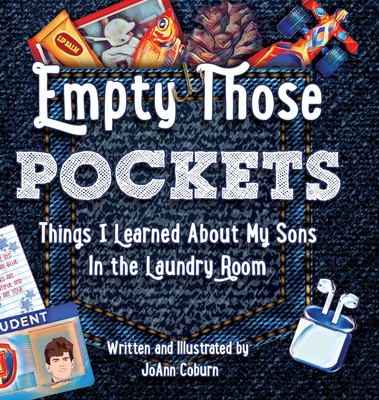 $19.95

Usually Ships in 1-5 Days
Description
---
What on Earth could you learn about your sons in the laundry room other than they are messy eaters, play rough and tumble, or have slid through bases in white baseball pants on a red clay field?
Delightfully entertaining, with a splash of wisdom along the way, Empty Those Pockets: Things I Learned About My Sons in the Laundry Room is a clever and witty reflection that transforms a mundane daily routine into a glimpse into the chronicles of a growing child's inner world. This spot-on "boy mom" will give you the dirt on what really goes on in the laundry room and get you up to speed on the importance of sorting things out, soaking things in knowing which materials to handle with gentle care.
The world is wide open for a toddler to explore, and you may unearth some sticks, rocks, or anything else that may have captivated his attention along the way. When the imagination has sparked, the pretending begins Superheroes and race cars are always ready for action and often on standby for an on-the-go adventure. As soon as he shows an interest in a hobby, watch out for those trading cards, as they are likely to be in a place where he can easily show his friends as socialization has kicked in. As the teen years begin, you notice that he suddenly cares about his grooming and hygiene. Trust me, melted lip balm is a hot mess in the dryer.
You never know what you might find in that treasure chest called a pocket. And remember, at any stage of childhood, those worldly possessions are the stuff your boy is made of.
CARE INSTRUCTIONS: Soak it in, watch it unfold. Pause and reset o balance your load.
Empty Those Pockets