You are here
Back to top
Miro (Hardcover)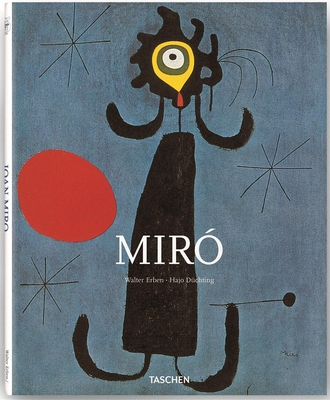 List Price: $14.99
Our Price: $13.49
(Save: $1.50 10%)
Description
---
Assassinator of painting: The artist who upset the establishment
Joan Mir (1893-1983) is
one of the most significant Spanish painters of the twentieth century
. The themes and treatments of his early work were shaped by the Catalan landscape and clearly show the influence of Fauvism and Cubism. During his travels, Mir encountered the intellectual avant-garde of his time; his friends included Francis Picabia, Tristan Tzara, Andr Masson, Jean Arp and Pablo Picasso.
From the mid-1920s onward, Mir strove to leave direct objective references behind and developed the pictograms that typify his style. The pictures of this period, which include perhaps the most beautiful and significant of his whole oeuvre, dispense with spatiality and an unambiguous reference to objects. From then on, the surfaces were defined by numerals, writing, abstract emblems, and playful figures and creatures. In the postwar years be begin producing graphic works, ceramics, monumental murals, and sculptures. In these works, too, the Catalan artist sought the solid foundation of a figurative, symbolic art, featuring faces, stars, moons, rudimentary animal forms, and letters. Joan Mir developed in several stages his characteristic flowing calligraphic style and his world of forms resembling shorthand symbols in several stages. From Fauvism to Surrealism by way of his original childlike style, Mir sought to shake up the establishment and in doing so made a name for himself.
About the Series:
Each book in TASCHEN's Basic Art series features:
a detailed chronological summary of the life and oeuvre of the artist, covering his or her cultural and historical importance
a concise biography
approximately 100 illustrations with explanatory captions
About the Author
---
Janis Mink studied art history at Smith College and gained her doctorate in Hamburg under Martin Warncke. She is presently a writer and curator.