You are here
Back to top
Tempting Rebel Princess (Paperback)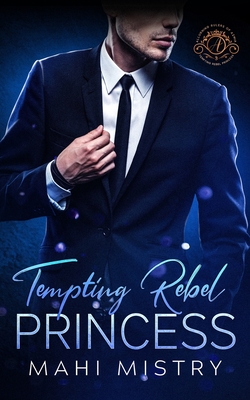 $14.99

Usually Ships in 1-5 Days
Description
---
"I want you to hurt me."
"Where do you want me to hurt you, Princess?"
"Here." I placed his large, calloused hands on my chest. Lowering them to where I wanted him the most.
"Everywhere."
Zara
I met him, the handsome, wicked stranger, when I sneaked out of the Golden Palace on my nineteenth birthday.
He crooned filthy, dirty words in my ears. Claiming me as His Princess when I spent a night with him.
What I did not plan was to meet that handsome, rugged stranger, Hayden Knight, after two years. He had disappeared that morning with a broken promise.
Now he wants me. For more than a night, not knowing that I am a Royal Princess. I have no choice but to forget the events of that night and move on because being a Princess of Azmia comes at a cost.
I have to forget him, even if my body craves his firm hold. His sapphire blue eyes curling with delicious desire that made me want to crawl on my knees and sin for him.
All I know is that I won't be able to refuse him, especially his cruel mouth, despite the consequences.
Hayden
I met her, the innocent doe-eyed vixen, when I first visited Azmia. Someone as sweet as her intrigued me, begging me to hurt her in the most delicious ways possible.
Her soft moans were music to my ears when I marked her soft skin that night. The stunning little rebel who made me want to kneel and worship her between her legs.
What I did not expect was to see her in a short dress, even shorter hair and a bigger smile after two years of endless search, looking enchanting as ever.
I crave to hold her in my arms, lay down anything and everything for her.
This time, I will have her. For more than a night.
After all, she is a Princess to my Knight.
♛♛♛
Tempting Rebel Princess is steamy and erotic. No cliff-hangers It is a perfect read if you enjoy sweet, sexy romance.
Explore the world of dirty and filthy mouthed royals with hearts of gold as they woo their love interests with their charm.
Tempting Rebel Princess is the third book in Alluring Rulers of Azmia Series and all the books can be read as standalone.
PREVIEW:
"I want you to hurt me," I breathed, staring at his eyes. They were a dark, sexy shade of blue. They compelled me to do terrible, dirty things to him and for him. Things I had never imagined I would ever want, but... there was something about him that made me want to be just Zara.
Not the Princess who had her own castle, who ate with a golden spoon every day, who was spoiled rotten since the day she was born.
No. With him, I just wanted to be Zara, a woman who wanted to be pleased and do the pleasing.
"Where do you want me to hurt you, Princess?" Hayden asked, a hint of a smirk on his lips as his eyes gleamed with unknown emotion.
My lips parted, but no words came out. He wants me to make the first move. He wanted to make sure I wanted this just as much as he wanted it even though I was eleven years younger than him.
The thought of this man, this handsome, sexy man wanting to hurt me because I told him to, scared and excited me. It was thrilling.
"Here." I placed his calloused hands on my breasts, still covered in the satin fabric of the beige dress. His eyes darkened, his face becoming sharper when he clenched his jaw. I licked my lips, sliding his hands to my waist. Lower.
"Everywhere."